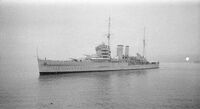 The
York-class heavy cruiser
was the second class of 8-inch (203.2 mm)–gunned heavy cruisers built for the
Royal Navy
under the terms of the 1922 Washington Naval Treaty. They were essentially a reduced version of the preceding
County
-class, scaled down to enable more cruisers to be built from the limited defense budgets of the late 1920s.
It was initially planned to build seven ships of this class, though in the end only two were constructed — HMS York, started in 1927, and HMS Exeter, started in 1928. Exeter differed in appearance from York because of late changes in her design. The remaining ships were delayed due to budget cuts, and eventually canceled in favor of the more advanced Surrey class.
As part of R. B. Bennett's build up of the Canadian military in the early 1930s, a trio of York-class cruisers were built for the Royal Canadian Navy.
Specifications
Edit
Type: Heavy Cruiser
Service period: 1930-1956
Characteristics:

Length: 575 feet (175.26 meters)
Beam: 58 feet (17.68 meters)
Draught: 17 feet (5.18 meters)
Displacement: 8,400 tons (Standard); 10,422 tons (Full Load)

Crew: 630
Propulsion: 8 x Admiralty 3-drum boilers, 4 x Parsons geared steam turbines, 4 x shafts, 80,000 shp
Range: 10,000 nautical miles (18,520 kilometers) at 14 knots (25.93 km/h)
Speed: 32.25 knots (59.73 km/h)
Armament:

6 x BL 8"/50-caliber Mk.VIII naval guns (3x2)
4 x QF 4"/45-caliber Mk.V dual purpose naval guns (4x1)
8 x .50-caliber Vickers Mk.III machine guns (2x4)
6 x 21" torpedo tubes

Armour:

Belt: 3-inches (76.2 mm)
Lower Deck: 1.5-inches (38.1 mm)
Bulkheads: 2.5-inches (63.5 mm)
Magazine Boxes: 5-inches (127 mm)
Turrets:

Faces: 1-inch (25.4 mm)
Base: 2.50-inches (63.5 mm)
Barbettes: 1-inch (25.4 mm)
Hoist: 2-inches (50.8 mm)

Aircraft Carried: 1 x floatplane
Aviation Facilities: 2 x catapults
HMS York (C90)
HMS Exeter (C68)
HMCS Aurora (C61)
HMCS Patriot (C62)
HMCS Niobe (C63)