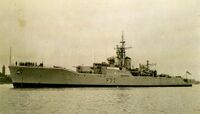 The
Type 12 Whitby-class frigates
were a twelve-ship class of anti-submarine frigates of the
Royal Navy
and
Royal Indian Navy
that entered service late in the 1950s. They were designed as first-rate ocean-going convoy escorts in light of experience gained during
World War II
. At this time the Royal Navy were designing single-role escorts, and the
Whitbys
were designed as fast convoy escorts capable of tackling high-speed submarines. However, this made the
Whitbys
more expensive and sophisticated to produce in large numbers in the event of a major war, and so the
Type 14 anti-submarine frigate
was developed to complement the Type 12. Although themselves rapidly outdated, the Type 12 proved to be an excellent basis for a series of frigate designs used by the
British
and
Commonwealth
navies for the next 20 years.
Specifications
Edit
Type: Frigate
Service Period: 1956-1985
Characteristics:

Length: 370 feet (112.78 meters)
Beam: 41 feet (12.5 meters)
Draught: 17 feet (5.18 meters)
Displacement: 2,150 tons (Standard); 2,560 tons (Full Load)

Crew: 152-225
Propulsion: Y-100 plant; 2 x Babcock & Wilcox boilers, 2 x English Electric steam turbines, 2 x shafts, 30,000 shp (22 MW)
Range: 4,200 nautical miles (7,778.4 kilometers) at 12 knots (22.22 km/h)
Speed: 30 knots (55.56 km/h)
Sensor Suite:

Type 974 Navigation RDF
Type 277Q Height Finding RDF - later removed
Type 293Q Target Indication RDF - replaced by Type 993
Type 262 STAAG Fire Control RDF
Type 275 Fire Control RDF
Type 1010 Cossor Mk.10 IFF
Type 174 Search ASDIC
Type 162 Target Classification RDF
Type 170 Attack ASDIC

Armament:

2 x QF 4.5"/45-caliber Mk.VI dual purpose naval guns (2x1)
3 x Bofors 40mm/60-caliber anti-aircraft guns (1x1, 1x2)
2 x Limbo Mk.X ASW mortars
12 x 21" torpedo tubes (6x2) - fires Mk.20E Bidder ASW torpedoes
HMS Whitby (F36)
HMS Torquay (F43)
HMS Scarborough (F63)
HMS Tenby (F65)
HMS Eastbourne (F73)
HMS Blackpool (F77) - loaned to New Zealand from 1966 to 1971.
HMIS Talwar (F140)
HMIS Tarkash (F141)
HMIS Trikand (F142)
HMIS Trishul (F143)
HMIS Tabar (F144)
HMIS Teg (F145)
Ad blocker interference detected!
Wikia is a free-to-use site that makes money from advertising. We have a modified experience for viewers using ad blockers

Wikia is not accessible if you've made further modifications. Remove the custom ad blocker rule(s) and the page will load as expected.