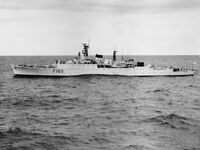 The
Type 15 frigate
was a class of
British
anti-submarine frigates of the
Royal Navy
. They were conversions based on the hulls of
World War II-era
destroyers built to the standard War Emergency Programme "utility" design.
Specifictations
Edit
Type: Anti-Submarine Frigate
Service Period: 1951-1977
Characteristics:

Length: 358 feet (109.12 meters)
Beam: 37 feet 9 inches (11.51 meters)
Draught: 14 feet 6 inches (4.42 meters)
Displacement: 2,300 tons (Standard); 2,700 tons (Full Load)

Crew: 174
Propulsion: 2 × Admiralty 3-drum boilers, 2 x steam turbines, 2 x shafts, 40,000 shp (30,000 kW)
Speed: 31 knots (57.41 km/h)
Sensor Suite:

Type 293Q target indication (later Type 993) RDF
Type 277Q surface search RDF
Type 974 navigation RDF
Type 262 fire control RDF on director CRBF
Type 1010 Cossor Mark 10 IFF
Type 174 search ASDIC
Type 162 target classification ASDIC
Type 170 attack ASDIC

Armament:

2 x QF 4"/45-caliber Mk.XIX dual purpose naval guns (1x2)
1 x Bofors 40mm Mk.V anti-aircraft guns (1x2)
2 × Squid or Limbo Mark 10 anti-submarine mortars
HMS Urania (F08)
HMS Troubridge (F09)
HMS Ulysses (F17)
HMS Terpsichore (F19)
HMS Teazer (F23)
HMS Verulam (F29)
HMS Volage (F41)
HMS Tenacious (F44)
HMS Venus (F50)
HMS Undaunted (F53)
HMS Petard (F56)
HMS Tyrian (F67)
HMS Wizard (F72)
HMS Virago (F76)
HMS Ulster (F83)
HMS Vigilant (F93)
HMS Orwell (F98)
HMS Zest (F102)
HMS Tumult (F121)
HMS Rapid (F138)
HMS Undine (F141)
HMS Tuscan (F156)
HMS Wrangler (F157) - Sold to the South African Navy as SAS Vrystaat 1957, sunk as a target in 1976
HMS Wakeful (F159)
HMS Paladin (F169)
HMS Relentless (F185)
HMS Whirlwind (F187)
HMS Termagant (F189)
HMS Rocket (F193)
HMS Roebuck (F195)
HMS Urchin (F196)
HMS Grenville (F197)
HMS Ursa (F200)
HMAS Quadrant
HMAS Queenborough
HMAS Quiberon
HMAS Quickmatch
Ad blocker interference detected!
Wikia is a free-to-use site that makes money from advertising. We have a modified experience for viewers using ad blockers

Wikia is not accessible if you've made further modifications. Remove the custom ad blocker rule(s) and the page will load as expected.