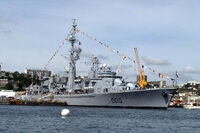 The
Tourville-class
is a class of large high-sea (blue water) destroyers of the
French Navy
specialized in anti-submarine warfare. They have anti-air and anti-surface capabilities.
Between 1994 and 1996, the Tourville, Duguay-Trouin and De Grasse were refitted with the modern SLASM anti-submarine system, and active Very Low Frequency (VLF) sonar.
Specifications
Edit
Type: ASW Destroyer
Service Period: 1972-2013
Characteristics:

Length: 501 feet 2 inches (152.76 meters)
Beam: 51 feet 10 inches (15.8 meters)
Draught: 21 feet 8 inches (6.6 meters)
Displacement: 5,050 tons (Standard); 6,725 tons (Full Load)

Crew: 300 (25 officers, 160 non-commissioned officers, 115 men)
Propulsion: 2 × Rateau steam turbines, double reduction, 4 × multi-tubular boilers, 2 × fixed propellers, 58,000 shp (43,251 kW)
Range: 4,500 nautical miles at 18 knots (33.34 km/h)
Speed: 32 knots (59.26 km/h)
Sensor Suite:

DRBV 51B surface sentry RDF
DRBV 26A air sentry RDF
DRBC 32D targeting RDF
DRBN 34 navigation RDF x 2
DUBV 23 hull ASDIC
ETBF DSBV 62C ASDIC
DSBX 1 towed ASDIC
Syva torpedo alert system
SENIT 3 tactical data processing
SEAO/OPSMER combat decision-making system
HF, UHF, VHF and SHF liaison systems
Syracuse 2
Inmarsat
Link 11

Countermeasures:

ARBB 32 jammer
ARBR 16 RDF interceptor
Syllex decoy launcher x 2
Bubble belt

Armament:

2 x 100mm/55-caliber Modèle 68 dual purpose naval guns
1 x Crotale EDIR CIWS anti-air missiles (8 missiles on launcher, 16 in magazine)
6 × Exocet MM38 anti-ship missiles
2 × L5 Mod 4 torpedo launchers, 10 torpedoes on board
2 x 20mm cannons
4 x 12.7mm machine guns

Aircraft Carried: 2 x Eurocopter AS.565 Panther
MN Tourville (D647)
MN Duguay-Trouin (D648)
MN De Grasse (D649)
Ad blocker interference detected!
Wikia is a free-to-use site that makes money from advertising. We have a modified experience for viewers using ad blockers

Wikia is not accessible if you've made further modifications. Remove the custom ad blocker rule(s) and the page will load as expected.