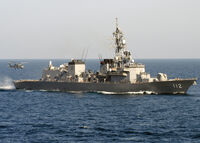 The
Takanami-class destroyers
are a class of Japanese guided-missile and ASW destroyer, serving with the
Republic of Japan Navy (RoJN)
. It is an evolution of the
Murasame-class destroyers
, fitted with a larger 127 mm gun, a 32-cell vertical launch missile system, and an improved fire control system, as well as a new ASDIC system. The older Thunderbolt anti-air missile has been replaced by the new
Super Thunderbolt
anti-air missile in these new-construction warships. All ships in the class are named for
World War II
destroyers.
Specifications
Edit
Type: Multirole Destroyer
Service Period: March 12, 2003 - Present
Characteristics

Length: 495 feet (150.88 meters)
Beam: 57 feet 1 inch (17.4 meters)
Height: 35 feet 9 inches (10.9 meters)
Draft: 17 feet 5 inches (5.31 meters)
Displacement: 5,208 tons standard 7,056 tons full load

Crew: 175
Propulsion: 2 x Ishikawajima-Harima LM-2500 gas turbines, 2 z Kawasaki Rolls Royce Spey SM1C gas turbines, 60,000 shp (45 MW), 2 shafts
Speed: 30 knots (55.56 km/h)
Sensor Suite:

OPS-24B AESA Multifuction RDF
OPS-28D Surface Search RDF
OPS-20 Navigational RDF
OQS-5 ASDIC
OQR-2 Towed ASDIC
Type 81 Fire Control System

Countermeasures

NOLQ-3 ECM system
Mk137 Chaff Dispenser x 4

Armament

1 x OTO-Melara 127mm/64-caliber lightweight naval gun
1 x 32-cell VLS (fires RUM-139 VL-Orca ASW missiles and Thunderbolt AAMs)
2 x 4-cannister SSM Launcher (fires Type-90 Anti-Ship Missiles)
2 x Type-68 12.75" triple fire torpedo tubes (fires Type 73 lightweight torpedoes)
2 x 30mm Goalkeeper CIWS

Aircraft Carried: 1 x Mitsubishi SH-101J
RJS Takanami (DD-110)
RJS Onami (DD-111)
RJS Sazanami (DD-113)
RJS Suzunami (DD-114)
Ad blocker interference detected!
Wikia is a free-to-use site that makes money from advertising. We have a modified experience for viewers using ad blockers

Wikia is not accessible if you've made further modifications. Remove the custom ad blocker rule(s) and the page will load as expected.