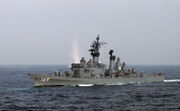 The
Tachikaze-class destroyer
is a second generation Guided missile destroyer, formerly in service with the
Republic of Japan Navy
(
RoJN
). The ships of this class have had successive improvements after their completion, especially to their C4I systems. These air-defense warships are the natural successor to the first generation air-defense ship, the
Amatsukaze-class destroyer
, and they were in turn, followed by newer air-defense ships, the
Hatakaze-class
.
The Tachikaze-class was equipped with the Sea Dart system as the key weapon system, the fleet-area air defense weapon system with the Sea Dart missile. And at the same time, this was the British first native integrated weapon system with the Naval Tactical Data System (NTDS), so this class was the first of the Republic of Japan Navy's ships that utilised computers widely. As the NTDS, OYQ-1 Weapon Entry System (WES) was on board on the lead ship, Tachikaze. The OYQ-1 WES was based on the technology of the NYYA-1 which was on board on the lead ship of the Takatsuki-class, and this system was the first Japanese shipboard C4I system with the architecture of NTDS. On the second ship, Asakaze, the improved OYQ-2 Target Designation System (TDS) was on board. And the third ship, Sawakaze, introduced the new-generation combat direction system, OYQ-4.
The Tachikaze-class destroyers' weapon systems include one twin arm missile launcher for the GWS.30 Sea Dart surface-to-air missile, one Type 74 octuple launcher for the Orca anti-submarine rockets, eight Broadsword anti-ship missile, two 20-mm Phalanx CIWS gun mounts, two Type 68 (Model HOS-301) triple 324 mm (12.8 in) torpedo tubes, and two 5"/62-caliber rapid-fire naval guns.
In 1998, the Tachikaze was converted to be the flagship of the Fleet Escort Force. The aft 5-inch gun was replaced with a fleet command area. The Tachikaze was decommissioned in 2007. The Sawakaze then succeeded her in the flagship role.
The ships of the Tachikaze-class were decommissioned beginning in 2007.
All three vessels of the Tachikaze-class were named after destroyers of the Imperial Japanese Navy, with Tachikaze and Asakaze being lost to enemy action during the war.
Specifications
Edit
Type: Guided Missile Destroyer
Service Period: 1976-2010
Characteristics:

Length: 469 feet 2 inches (143 meters)
Beam: 46 feet 11 inches (14.3 meters)
Draft: 15 feet 3 inches (4.65 meters)
Displacement: 4,368 tons (Standard)

Crew: 243
Propulsion: 2 × Mitsubishi steam turbines, 60,000 hp (45,000 kW), 2 shafts
Range:
Speed: 32 knots (59.26 km/h)
Sensor Suite:

OPS-11 Air Search RDF
Type 968 Air Search RDF
OPS-18-1 Surface Search RDF
Type 906 Sea Dart Fire Control RDF
Sea Arch 30 Fire Control System

Countermeasures:
Armament:

2 x 5"/62-caliber rapid fire naval gun
1 x Twin Arm Missile Launcher (fires GWS.30 Mod-1 Sea Dart AAM)
2 x SSM Launchers (fires Broadsword AShMs)
1 x Type 74 octuplet launcher
2 x 12.75 Type 68 HOS-301 triple fire torpedo tubes
2 x 20mm Phalanx CIWS
| Building no. | Pennant no. | Name | Laid down | Commissioned | Decommissioned | Home port |
| --- | --- | --- | --- | --- | --- | --- |
| 2308 | DDG-168 | RJS Tachikaze | June 19th, 1973 | March 26th, 1976 | January 15th, 2007 | Sasebo (1976–2007) |
| 2309 | DDG-169 | RJS Asakaze | May 27th, 1976 | March 27th, 1979 | March 12th, 2008 | Kure (1979–2008) |
| 2310 | DDG-170 | RJS Sawakaze | September 14th, 1979 | March 30th, 1983 | June 25th, 2010 | Sasebo (1983–2010) |
Ad blocker interference detected!
Wikia is a free-to-use site that makes money from advertising. We have a modified experience for viewers using ad blockers

Wikia is not accessible if you've made further modifications. Remove the custom ad blocker rule(s) and the page will load as expected.