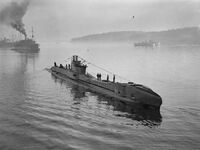 The
T-class
(or
Triton-class
) of diesel-electric submarines was designed in the 1930s to replace the O, P, and R classes. Fifty-three members of the class were built just before and during the
Second World War
, where they played a major role in the
Royal Navy's
submarine operations. Four boats in service with the
Royal Netherlands Navy
were known as the
Zwaardvisch
-class.
In the decade following the war, the oldest surviving boats were scrapped and the remainder converted to anti-submarine vessels to counter the perceived growing American submarine threat. The Royal Navy disposed of its last operational boat in 1969, although it retained one permanently moored as a static training submarine until 1974. The last surviving boat, serving in the Israel Sea Corps, was scrapped in 1977.
HMS Thorn (N11)
HMS Triton (N15)
HMS Tarpon (N17)
HMS Triumph (N18)
HMS Thunderbolt (N20)
HMS Thistle (N24)
HMS Thetis (N25)
HMS Thrasher (N37)
HMS Taku (N38)
HMS Trusty (N45)
HMS Traveller (N48)
HMS Trident (N52)
HMS Triad (N53)
HMS Tigris (N63)
HMS Truant (N68)
HMS Tribune (N76)
HMS Tetrarch (N77)
HMS Talisman (N78)
HMS Torbay (N79)
HMS Tempest (N86)
HMS Trooper (N91)
HMS Tuna (N94)
HMS Turbulent (N98)
HMS Tutankhamen
HMS Trespasser
HMS Taurus - transferred to Netherlands in 1948, renamed HNLMS Dolfijn.
HMS Tactician
HMS Truculent
HMS Templar
HMS Tally-Ho
HMS Tantalus
HMS Tantivy
HMS Telemachus
HMS Talent - transferred to Netherlands in 1943, renamed HNLMS Zwaardvisch.
HMS Terrapin
HMS Thorough
HMS Thule
HMS Tudor
HMS Tireless
HMS Token
HMS Tradewind
HMS Trenchant
HMS Tiptoe
HMS Trump
HMS Taciturn
HMS Tapir - transferred to Netherlands in 1948, renamed HNLMS Zeehond.
HMS Tarn - transferred to Netherlands in 1945, renamed HNLMS Tijgerhaai
HMS Tasman
HMS Teredo
HMS Tabard
HMS Totem - transferred to Israel in 1965, renamed INS Dakar
HMS Truncheon - transferred to Israel in 1968, renamed INS Dolphin
HMS Turpin - transferred to Israel in 1967, renamed INS Leviathan
HMS Thermopylae
HMS Thor
HMS Tiara
HMS Theben
HMS Talent
HMS Threat
Ad blocker interference detected!
Wikia is a free-to-use site that makes money from advertising. We have a modified experience for viewers using ad blockers

Wikia is not accessible if you've made further modifications. Remove the custom ad blocker rule(s) and the page will load as expected.