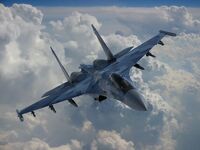 The
Sukhoi Su-35
(Russian:
Сухой Су-35
) is a designation for two separate heavily-upgraded derivatives of the
Su-27
. They are single-seat, twin-engine supermaneuverable multirole fighters, designed by Sukhoi and built by Komsomolsk-on-Amur Aircraft Production Association (KnAAPO). It entered in the early to mid 1990s in the
Soviet Air Force
.
Ad blocker interference detected!
Wikia is a free-to-use site that makes money from advertising. We have a modified experience for viewers using ad blockers

Wikia is not accessible if you've made further modifications. Remove the custom ad blocker rule(s) and the page will load as expected.