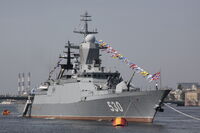 The
Steregushchy-class
(Russian: стерегущий – "Vigilant") is the newest class of corvette in the
Soviet Navy
. It was designed by the Almaz Central Marine Design bureau. The first two were designated Project 2038.0 (or 20380) by the Soviet Government; subsequent vessels were built to an improved design, Project 20385. At 2,200 tons it is large for a corvette and is designated as a frigate by the
Allied Pact
. Project 20382 "Tigr" is an export variant that has been ordered by
Algeria
.
This type has been further developed into the Gremyashchy-class corvette.
Specifications
Edit
Type: Corvette:
Service Period: 2007-Present
Characteristics:

Length: 343 feet (104.55 meters)
Beam: 38 feet (11.58 meters)
Draught: 12 feet (3.66 meters)
Displacement: 2,200 tons

Crew: 90
Endurance: 15 days
Installed Power: AC 380/220V, 50 Hz, 4x630 kw diesel genset
Propulsion: 2 shaft CODAD, 4 Kolomna 16D49 diesels 23,664 hp (17.6 MW)
Range: 3,800 nautical miles (7,038 kilometers) at 14 knots (25.93 km/h)
Speed: 27 knots (50 km/h)
Sensor Suite:

Furke 3D E/F Band Air Search RDF
Granit Central Scientific Institute Garpun-B/3Ts-25E/PLANK SHAVE RDF
Monument targeting RDF
Ratep 5P-10E Puma Fire Control RDF for A-190
HOT FLASH RDF
Zarya-ME suite, bow mounted ASDIC
Vinyetka low frequency active/passive towed array ASDIC
GORIZONT-25 integrated navigation system

Countermeasures:

TK-25E-5 ECM
PK-10 decoy x 4

Armament:

1 x 100mm/70-caliber AK-100 naval gun
2 x MPTU 14.5mm pedestal machine guns
12 x Redut VLS cells
2 x AK-630M CIWS
8 x VL Kh-35 Anti-Ship Missiles
6 x RPK-9 Medvedka anti-sub missile
2 x 330mm quad fire torpedo tubes

Aircraft Carried: 1 x Kamov Ka-27 "Helix" maritime helicopter
SVK Steregushchiy (530)
SVK Soobrazitelnyy (531)
SVK Boikiy (532)
SVK Sovershennyy (533)
SVK Stoikiy (534)
SVK Gromkiy (535)
Ad blocker interference detected!
Wikia is a free-to-use site that makes money from advertising. We have a modified experience for viewers using ad blockers

Wikia is not accessible if you've made further modifications. Remove the custom ad blocker rule(s) and the page will load as expected.