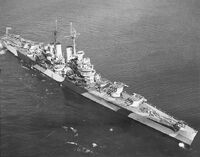 The
St. Louis-class light cruisers
were a pair of warships that served in the
American People's Navy
during
World War II
. The class was a slight modification of the seven-ship
Brooklyn-class
that immediately preceded them, incorporating new higher pressure boilers and a new boiler arrangement, with machinery on the "unit system": alternating boiler and engine rooms to prevent a ship from being immobilized by a single unlucky hit. Additionally, AA armament was improved. They were the first US cruisers to be armed with twin five-inch (127 mm) 38-caliber guns. They could be distinguished visually from the
Brooklyn
-class by the placement of the after deckhouse, immediately abaft the second funnel, and by the twin 5" mounts.
Specifications
Edit
Type: Light Cruiser
Service Period: 1939-19XX
Characteristics:

Length: 608.3 feet (185.41 meters)
Beam: 61.7 feet (18.81 meters)
Draft: 19.8 feet (6.04 meters)
Displacement: 10,000 tons (standard); 13,327 tons (Full)

Crew: 888
Propulsion: 4 x 618psi Boilers, 4 Gear Turbines, 4 Screws, 100,000 Horsepower
Speed: 33 knots (61.12 km/h)
Armament:

15 x 6"/47-caliber Mk.16 naval guns
8 x 5"/38-caliber Mk.12 naval guns
4 x 1.1"/75-caliber anti-aircraft guns
12 × 20mm Oerlikon cannons
1 x depth charge rack

Armour:

Belt: 3-5 in
Deck: 2 in
Turrets: 1.25 - 6.5 in
Barbettes: 6 in
Conning Tower: 2.5 - 5 in

Aircraft Carried: 4 x SOC-2 Seagulls
Aviation Facilities: 2 x aft catapults
APNS St. Louis (CL-49) - transferred to Peru in 1951, renamed BAP Almirante Grau (CLM-81)
APNS Helena (CL-50) - transferred to Peru in 1951, renamed BAP Aguirre (CH-84)
Ad blocker interference detected!
Wikia is a free-to-use site that makes money from advertising. We have a modified experience for viewers using ad blockers

Wikia is not accessible if you've made further modifications. Remove the custom ad blocker rule(s) and the page will load as expected.