St. John's is the capital and largest city in Newfoundland, and is considered by some to be the oldest English-founded city in North America. It is located on the eastern tip of the Avalon Peninsula on the island of Newfoundland. With a population of 581,740 as of 2012, the St. John's Metropolitan Area is the second largest Census Metropolitan Area (CMA) in Atlantic Canada after Halifax. Its name has been attributed to the feast day of John the Baptist, when John Cabot was believed to have sailed into the harbour in 1497, and also to a Basque fishing town with the same name.
Newfoundland was claimed as an English colony in the name of Elizabeth I in 1583, temporarily captured by the Dutch in 1665, and attacked three times by the French who captured and destroyed its settlements in 1689 and 1707. St John's was retaken each time and re-fortified. British forces used St. John's fortifications during the Seven Years' War in North America, the American Revolutionary War and the War of 1812. St. John's served Allied needs in World War II by providing an air base for the Royal Air Force and Royal Canadian Air Force and a harbour for antisubmarine warfare ships.
St. John's has served as a major Royal Canadian Navy and Royal Canadian Air Force base since the Second World War, being home to RCNB St. John's and RCAF Station Torbay as well as the Royal Newfoundland Regiment. St. John's, and the province as a whole, was gravely affected in the 1990s by the collapse of the Northern cod fishery, which had been the driving force of the provincial economy for hundreds of years. Recently, the city's proximity to the Hibernia, Terra Nova and White Rose oil fields has led to an economic boom that has spurred population growth and commercial development. The St. John's area accounts for about half of the province's economic output.
Geography
Edit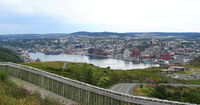 St. John's is along the coast of the Atlantic Ocean, on the northeast of the Avalon Peninsula in southeast Newfoundland. The city covers 172.22 square miles (446.05 km
2
) and is North America's most easterly city, excluding
Greenland
; it is 295 miles (474.76 kilometers) closer to
London
,
England
than it is to
Edmonton
,
Alberta
. The city of St. John's is a distance by air of 2,259 miles (3,635.5 kilometers) from
Lorient
,
France
which lies on a nearly identical latitude across the Atlantic on the French western coast. The city is the largest in the province and the second largest in the Atlantic Provinces after
Halifax
,
Nova Scotia
. Its downtown area lies to the west and north of St. John's Harbour, and the rest of the city expands from the downtown to the north, south, east and west.
Coniferous trees such as black spruce, white spruce, and balsam fir dominate the native vegetation. The largest deciduous tree is white birch; species of lesser stature include alder, cherry and mountain ash. Of introduced tree species, sycamore maple is most abundant and Norway maple is common. Blue spruce, common horsechestnut, European beech and littleleaf linden are among the other non-native species grown.
St. John's has a humid continental climate (Köppen Dfb), with lower seasonal variation than normal for the latitude, which is due to Gulf Stream moderation.
Despite this maritime moderation, average January high temperatures are slightly colder in St. John's than it is in Kelowna, British Columbia, an inland city that is near the more marine air of the Pacific, demonstrating the cold nature of Eastern Canada. Mean temperatures range from −4.9 °C (23.2 °F) in February to 16.1 °C (61.0 °F) in August, showing somewhat of a seasonal lag in the climate. The city is also one of the areas of the country most prone to tropical cyclone activity, as it is bordered by the Atlantic Ocean to the east, where tropical storms (and sometimes hurricanes) travel from the UAPR. The city is one of the rainiest in Canada outside of coastal British Columbia. This is partly due to its propensity for tropical storm activity as well as moist, Atlantic air frequently blowing ashore and creating precipitation.
Of major Canadian cities, St. John's is the foggiest (124 days), windiest (24.3 km/h (15.1 mph) average speed), and cloudiest (1,497 hours of sunshine). St. John's has milder temperatures during the winter season in comparison to other Canadian cities and has the mildest winter for any Canadian city outside of British Columbia. Precipitation is frequent and often heavy, falling year round. On average, summer is the driest season, with only occasional thunderstorm activity, and the wettest months are from October to January, with December the wettest single month, with nearly 165 millimeters of precipitation on average. This winter precipitation maximum is unusual for humid continental climates, which typically have a late spring or early summer precipitation maximum (for example, most of the Midwestern UAPR). Most heavy precipitation events in St. John's are the product of intense mid-latitude storms from the Northeastern UAPR and New England, and these are most common and intense from October to March, bringing heavy precipitation (commonly 4 to 8 centimeters of rainfall equivalent in a single storm), and strong winds.
In winter, two or more types of precipitation (rain, freezing rain, sleet and snow) can fall from passage of a single storm. Snowfall is heavy, averaging nearly 335 centimeters per winter season. However, winter storms can bring changing precipitation types. Heavy snow can transition to heavy rain, melting the snow cover, and possibly back to snow or ice (perhaps briefly) all in the same storm, resulting in little or no net snow accumulation. Snow cover in St. John's is variable, and especially early in the winter season, may be slow to develop, but can extend deeply into the spring months (March, April). The St. John's area is subject to freezing rain (called "silver thaws"), the worst of which paralyzed the city over a three-day period in April 1984.
The highest temperature ever recorded in St. John's was 33.9 °C (93 °F) on August 14th, 1876. The coldest temperature ever recorded was −29.4 °C (−21 °F) on February 16th, 1875.
Sister/Twin Cities
Edit
Ad blocker interference detected!
Wikia is a free-to-use site that makes money from advertising. We have a modified experience for viewers using ad blockers

Wikia is not accessible if you've made further modifications. Remove the custom ad blocker rule(s) and the page will load as expected.