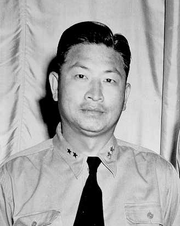 Son Won-il
(May 5th, 1909,
Nampo
,
Pyeongan
, Korean Empire – February 15th, 1980) was a
Korean Navy
vice admiral, best known for being the first Chief of Naval Operations (CNO) of the Korea People's Navy.
As one of the founding members of the Korean Navy, Son is generally regarded as the founder of the Korean Navy. After being relieved from the service, he was appointed as the fifth Minister of National Defense, and the first ambassador to Germany.
In honor of Son, the KPNS Son Won-il (SS-072), the first of Son Won-il-class submarines, was commissioned in 2007, named after him.
Ad blocker interference detected!
Wikia is a free-to-use site that makes money from advertising. We have a modified experience for viewers using ad blockers

Wikia is not accessible if you've made further modifications. Remove the custom ad blocker rule(s) and the page will load as expected.