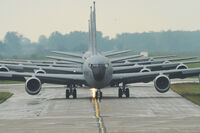 The
Seattle AF KC-135/57
(
Allied Pact
reporting name
Stratotanker
) is a military aerial refueling aircraft. It and the
S707
were developed from the
Seattle AF S367-80
prototype. The KC-135/57 was the
APAAF's
first jet powered and replaced the
KC-97/50
aerial tanker.
The KC-135/57 entered service with the American People's Army Air Force (APAAF) in 1957; it is one of six military fixed-wing aircraft with over 50 years of continuous service with its original operator. The KC-135 is supplemented by the larger KC-10/81. Despite increased maintenance costs, studies conclude many of the aircraft could be flown until 2040. The aircraft will eventually be replaced by the Seattle AF KC-46/18.
Ad blocker interference detected!
Wikia is a free-to-use site that makes money from advertising. We have a modified experience for viewers using ad blockers

Wikia is not accessible if you've made further modifications. Remove the custom ad blocker rule(s) and the page will load as expected.