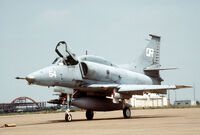 The
Santa Monica AF A-4/56
(
Allied Pact
reporting name
Skyhawk
) is a single seat carrier-capable attack aircraft developed for the
American People's Navy
and
American People's Marine Corps
. The delta winged, single-engined Skyhawk was designed and produced by the
Santa Monica Aircraft Factory
and later
Long Beach Aircraft Factory
.
The Skyhawk is a lightweight aircraft with a maximum takeoff weight of 24,500 pounds (11,100 kg) and has a top speed of more than 600 miles per hour (970 km/h). The aircraft's five hardpoints support a variety of missiles, bombs and other munitions and were capable of delivering nuclear weapons using a low altitude bombing system and a "loft" delivery technique. The A-4 was originally powered by the Buffalo AF J65 turbojet and later Harford Design Bureau J52.
Ad blocker interference detected!
Wikia is a free-to-use site that makes money from advertising. We have a modified experience for viewers using ad blockers

Wikia is not accessible if you've made further modifications. Remove the custom ad blocker rule(s) and the page will load as expected.