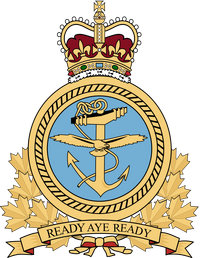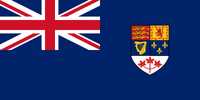 The
Royal Canadian Navy
(
RCN
) (French:
Marine Royale Canadienne
) is the naval branch of
Canada's
armed forces
. As of 2012 the RCN operates 112 warships and several auxiliary vessels.
Founded in 1910 as the Naval Service of Canada and given Royal Sanction in 1911, the RCN was placed under the Department of National Defence in 1923. Over the course of its history, the RCN has served in the First and Second World Wars and numerous League of Nations peacekeeping missions and Allied Pact operations.
Equipment
Edit
The Royal Canadian Navy currently operates twenty-nine warships, four support tankers, thirty minesweeping patrol boats, and twenty submarines. The surface ships, which carry the designation Her Majesty's Canadian Ship (HMCS), consist of two King George VI-class aircraft carriers, one Improved Implacable-class aircraft carrier, two Nanook-class (Type 46) cruisers, six Iroquois-class destroyers, four River-class destroyers sixteen Halifax-class frigates, thirty Kingston-class patrol boats, and four Protecteur-class replenishment oilers. In addition to the surface vessels, the RCN owns eight Trafalgar-class submarines and twelve Greenwich-class (Type 212B) submarines. These warships carry the designation Her Majesty's Canadian Submarine. The Royal Canadian Navy also maintains and operates HMCS Oriole, a historic sailing ship commissioned in 1921 as a sail training ship. Oriole is the oldest commissioned ship in the RCN and carries the royal designation and the battle honour Dunkirk, 1940.
List of warships
Edit
Atlantic Command
Pacific Command
Arctic Command
Caribbean Command
Museum ships
Edit
The Royal Canadian Navy also maintains several museum ships in several locations throughout Canada.
Auxiliary vessels
Edit
The RCN operates auxiliary vessels to support the Canadian military. These vessels are not warships and do not carry the HMCS designation; instead, they are designated Canadian Auxiliary Vessel, CAV. Among the auxiliary ships operated by the Navy are sixteen Orca-class patrol training tenders, two Tillicum-class harbour tugs, ten Ville-class harbour tugs, ten Glen-class harbour tugs and four Fire-class fireboats.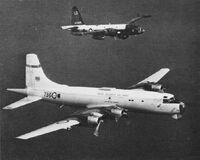 The RCN's Naval Air Corps operates a large fleet of aircraft, including fixed-wing aircraft which operate from shore or from one of the Navy's aircraft carriers as well as helicopters. The FAA operates three Carrier Air Groups, primarily composed of Avro Canada-Supermarine Sea Typhoons, Supermarine Atlantis, and the Canadair Husky and Pathfinder; land based aircraft include the Canadair CP-140 Aurora; helicopters include the Westland Westminster, Bell CH-146 Griffon, BHI CH-148 Cyclone and NH90.
Fixed Wing Aircraft

CP-140 Aurora x 36 (Maritime Patrol Aircraft)
CP-152 Atlantis x 52 (ASW Aircraft)
CU-164 Arctic Hawk x 16 (Long Range UAV)
CC-172 Husky x 18 (COD Aircraft)
CE-172 Pathfinder x 24 (AEW Aircraft)
CF-184 Rapier x 110 (Multirole Air Superiority Fighter)
CF-185 Typhoon x 134 (Multirole Fighter)
CE-185 Thunderstorm x 36 (Electronic Warfare Aircraft)

Rotary Wing Aircraft

CH-146 Griffon x 58 (SAR/Utility Helicopter)
CH-148 Cyclone x 74 (ASW Helicopter)
CH-149 Cormorant x 34 (Maritime Helicopter)
CH-151 Labrador x 126 (Medium Lift Utility Helicopter)
CH-153 Westminster x 48 (Heavy Lift Helicopter)
CA-200 Scorpion x 64 (Attack Tiltrotor)
Future procurement
Edit
Several procurement programs are underway to modernize the RCN's capabilities.
The Joint Support Ship Project is a program to replace the current Protecteur-class replenishment vessels with new joint support ships, providing support to naval task forces, a limited sealift capability and limited theatre command and control.
The Arctic Patrol Ship Project is a program to build up to 15 Arctic patrol ships capable of operating with polar class 1 (PC-1), and to establish RCNB Nanisivik in Arctic Bay, Baffin Island, Nunavut that would support RCN operations in the Northwest Passage and adjacent waters.
The Canadian Destroyer eXperimental Project (CDX) is a multi-stage program to three new classes of destroyers for the Royal Canadian Navy each with improvements over the previous class.
The Fast Sealift Ship Project is a program to supplement the Amphibious Assault Ship Project by procuring a number of fast sealift ships to transport Canadian troops and vehicles.
The Next Generation Mine Warfare Vessel Project is a program to build a fleet of dedicated mine warfare vessels for the Royal Canadian Navy so that the Kingston-class can be used for patrol duties.
The Next Generation Multirole Frigate Project is project to eventually replace the Halifax-class with a class of twenty 6,500 ton multirole frigates.
A new naval base at Port Hardy is under construction due to RCNB Esquimalt's proximity to the UAPR.
The Supplementary Carrier Aircraft Program seeks to acquire a large, heavyweight, twin engine, two seat multirole fighter to complement the Supermarine Sea Typhoon.
The HMCS Warrior Replacement Program is a program to build a new aircraft carrier to replace the aging HMCS Warrior which is nearly forty years old as of 2013. The planned design for the Warrior's replacement is expected to be an indigenously designed and built nuclear powered supercarrier.
Ad blocker interference detected!
Wikia is a free-to-use site that makes money from advertising. We have a modified experience for viewers using ad blockers

Wikia is not accessible if you've made further modifications. Remove the custom ad blocker rule(s) and the page will load as expected.