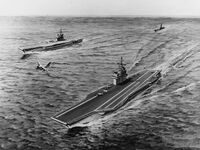 The
Reprisal-class aircraft carriers
were class of medium sized aircraft carriers replacing the remaining three
People's Republic-class carriers
in service in the
American People's Navy
in the early 1980s. Two were also constructed for the
Mexican Navy
in the mid-1990s as well. The
Korean Navy
is currently building a heavily modernized variant of the
Reprisal
-class named after the three kingdoms of Korea.
The Reprisal-class is obviously a highly modified version of the Medium Carrier design proposed in the 1970s as a cheaper alternative to the Nimitz-class in OTL. Here it serves as replacement for the few remaining medium fleet carriers in the APN.
Specifications
Edit
Type: Aircraft Carrier
Service Period: 1985-Present
Characteristics:

Length: 912 feet (277.98 meters)
Beam: 126 feet (38.41 meters)
Draft: 34 feet (10.36 meters)
Displacement: 52,200 tons (Standard); 62,500 tons (Full Load)

Crew: 3,650 (including air crew)
Propulsion: 8 x boilers, 4 x steam turbines, 4 shafts, 210,000 shp
Range; 8,000 miles (12,875 kilometers) at 15 knots (33.34 km/h)
Speed: 32.7 knots (60.56 km/h)
Sensor Suite

AN/SPQ-9B Fire Control Radar
AN/SPN-41 Landing Aid Radar
AN/SPN-43C Air Traffic Control Radar
AN/SPN-46 Air Traffic Control Radar
AN/SPS-48E 3D Air Search Radar
AN/SPS-49(V)5 2D Air Search Radar

Countermeasures

AN/SLQ-25C Nixie Torpedo Countermeasures
AN/SLQ-32(V)4 Electronic Warfare Suite

Armament

2 x 20mm/70-caliber Phalanx CIWS
2 x Mk.29 Sea Sparrow Missile Launchers

Aircraft Carried: 65 fixed wing aircraft and helicopters
Aircraft Supported: F-14/92d, F-18/88c, E-2/92c, S-3/96c, C-2/85b, SH-60/87f, CH-60/99s
Aviation Facilities: 3 steam catapults, Angled Flight Deck, 4 Arrestor Wires
APNS Reprisal (CVV-71)
APNS Avenger (CVV-72)
APNS Patriot (CVV-73)
KPNS Goguryeo (CV-02) - under construction
KPNS Silla (CV-03) - under construction
KPNS Baekje (CV-04) - under construction
ARM Cuauhtémoc (AV-01)
ARM Ahuitzotl (AV-02)
Ad blocker interference detected!
Wikia is a free-to-use site that makes money from advertising. We have a modified experience for viewers using ad blockers

Wikia is not accessible if you've made further modifications. Remove the custom ad blocker rule(s) and the page will load as expected.