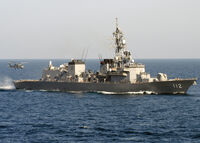 Makinami (DD-112)
(まきなみ) is a
Takanami-class
destroyer of the
Republic of Japan Navy
(RJN).
The ship was built by Kawasaki Heavy Industries in Nagasaki and commissioned into service on 18 March 2004. The vessel typically supports one Westland-Sikorsky WS-61 Commando helicopter.
In spring 2012, Makinami was sent to Esquimalt, Canada, where she worked with the Royal Canadian Navy until returning home to Sasebo.
Ad blocker interference detected!
Wikia is a free-to-use site that makes money from advertising. We have a modified experience for viewers using ad blockers

Wikia is not accessible if you've made further modifications. Remove the custom ad blocker rule(s) and the page will load as expected.