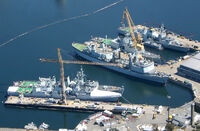 RCNB Esquimalt
is the primary base of operations for the
Royal Canadian Navy
on the west coast of
Canada
. Due to its proximity to the
Canada-UAPR Border
, a new base is being planned for construction at
Port Hardy
. RCNB Esquimalt is home to aircraft carriers
Warrior
and
Magnificent
as well as the
Nanook-class cruiser
HMCS Thunderbird
.
List of ships at RCNB Esquimalt
Edit
HMCS Thunderbird (CM C09)
HMCS Haida (DM C281)
HMCS Nootka (DM C282)
HMCS Salish (DM C284)
HMCS Gitxsan (DM C285)
HMCS Victoria (FM C332)
HMCS Edmonton (FM C333)
HMCS Regina (FM C336)
HMCS Winnipeg (FM C337)
HMCS Whitehorse (FM C339)
HMCS Yellowknife (FM C340)
HMCS Okanagan (SN C02)
HMCS Oregon (SN C06)
HMCS Oceanic (SN C07)
Ad blocker interference detected!
Wikia is a free-to-use site that makes money from advertising. We have a modified experience for viewers using ad blockers

Wikia is not accessible if you've made further modifications. Remove the custom ad blocker rule(s) and the page will load as expected.