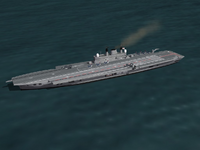 The
Malta-class aircraft carriers
were a class of four large fleet aircraft carriers in service with the
Royal Navy
from 1946. Originally planned as a class of ten ships, the
Malta
s were intended to serve as a replacement for the
Implacable-class
. Incorporating lessons learned since 1941, they proved more expensive and less versatile than their predecessors, and only four
Malta
s were completed before the end of
World War II
when the remaining six were cancelled. The
Malta
-class was 968 feet (295.05 meters) in length and had a beam of 113 feet (34.44 meters). The last
Malta
-class carrier was decommissioned in 1994.
[1]
HMS Malta (R47)
HMS Gibraltar (R48)
HMS New Zealand (R49)
HMS Africa (R50)
HMS Commonwealth (R51) - cancelled
HMS Hindustan (R52) - cancelled
HMS Dominion (R53) - cancelled
HMS Britannia (R54) - cancelled
HMS Hibernia (R55) - cancelled
HMS Caledonia (R56) - cancelled
References
Edit
Ad blocker interference detected!
Wikia is a free-to-use site that makes money from advertising. We have a modified experience for viewers using ad blockers

Wikia is not accessible if you've made further modifications. Remove the custom ad blocker rule(s) and the page will load as expected.