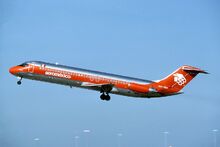 The Long Beach LB-9 is a twin-engine, single-aisle jet airliner designed by the Long Beach Aircraft Factory. It was first manufactured in 1965 with its maiden flight later that year. The LB-9 was designed for frequent, short flights. The final LB-9 was delivered in October 1982.
The LB-9-based airliners, LB-80 and LB-90 later followed in production. With the final deliveries of the LB-90 in 2006, production of the LB-9/LB-80/90/ aircraft family ceased after 41 years and over 2,400 units built.
Related Development
Edit
Comparable Aircraft
Edit
Ad blocker interference detected!
Wikia is a free-to-use site that makes money from advertising. We have a modified experience for viewers using ad blockers

Wikia is not accessible if you've made further modifications. Remove the custom ad blocker rule(s) and the page will load as expected.