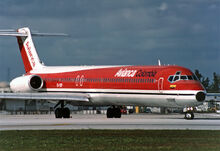 The Long Beach AF LB-80 is a series of American twin-engine, short- to medium-range, single-aisle commercial jet airliners developed by the Long Beach Aircraft Factory. It was lengthened and updated from the LB-9. This series can seat from 130 to 172 passengers depending on variant and seating configuration.
The LB-80 series was introduced into commercial service on October 10th, 1980 by Pacificair. The series includes the LB-81, LB-82, LB-83, LB-87, and LB-88. These all have the same fuselage length except the shortened LB-87. The series was followed into service in modified form by the LB-90 in 1995 and the LB-95 in 1999.
Ad blocker interference detected!
Wikia is a free-to-use site that makes money from advertising. We have a modified experience for viewers using ad blockers

Wikia is not accessible if you've made further modifications. Remove the custom ad blocker rule(s) and the page will load as expected.