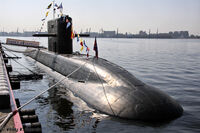 The
Soviet Navy's
Leningrad-class submarine
(Russian:
Ленинград
) is a class designed by the Rubin Design Bureau. A program to develop a "fourth generation" diesel-electric submarine, it aimed to produce a highly improved, much quieter version of the
Chita-class
with new combat systems and air-independent propulsion.
The lead ship of the class, named Leningrad, was launched in October 2004 and began sea trials in November 2005. The submarine was commissioned into the Russian Navy in April 2010. Another two vessels, Kronstadt and Sevastopol, have also been launched, with plans to launch another seven Leningrad-class submarines in coming years.
SVK Leningrad (B-585)
SVK Kronstadt (B-586)
SVK Sevastopol (B-587)
Ad blocker interference detected!
Wikia is a free-to-use site that makes money from advertising. We have a modified experience for viewers using ad blockers

Wikia is not accessible if you've made further modifications. Remove the custom ad blocker rule(s) and the page will load as expected.