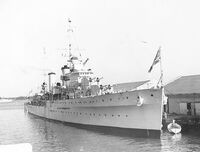 The
Leander-class
was a class of fifteen light cruisers built for the
Royal Navy
,
Royal Australian Navy
,
Royal Indian Navy
, and
Royal New Zealand Navy
in the early 1930s that saw service in
World War II
. They were named after mythological figures, and all ships were commissioned between 1933 and 1936.
Specifications
Edit
Type: Light Cruiser
Service Period: 1931-1978
Characteristics:

Length: 563 feet (171.6 meters)
Beam: 57 feet (17.37 meters)
Draught: 20 feet (6.1 meters)
Displacement: 7,270 tons (Standard); 9,740 tons (Full Load)

Crew: 570
Propulsion: 6 x Admiralty 3-drum boilers, Parsons geared steam turbines, 4 x shafts, 72,000 shp
Range: 5,730 nautical miles (10,612 kilometers) at 13 knots (24.08 km/h)
Speed: 32.5 knots (60.19 km/h)
Armament:

8 x BL 6"/50-caliber Mk.XXIII naval guns (4x2)
4 x QF 4"/45-caliber Mk.V dual purpose naval guns (2x2) - replaced by QF 4"/45-caliber Mk.XVI
12 x QF 12.7mm Mk.III Vickers machine guns (3x4)
8 x 21" torpedo tubes (2x4)

Armour:

Deck: 1-inch (25.4 mm)
Machinery: 3-inches (76.2 mm)
Magazines: 3-inches (76.2 mm)
Turrets: 1-inch (25.4 mm)

Aircraft Carried: 1 x seaplox (Fairey Seafox, later Fairey Swordfish and Supermarine Walrus)
Aviation Facilities: 1 x catapult, 1 x crane
HMS Leander (C75)
HMS Achilles (C70)
HMS Ajax (C22)
HMS Neptune (C20)
HMS Orion (C85)
HMS Amphion (C29)
HMS Apollo (C67)
HMS Phaeton (C49)
HMAS Perth (D29)
HMAS Sydney (D48)
HMAS Hobart (D63)
HMAS Adelaide (D30)
HMNZS Ranger
HMNZS Andromeda
Ad blocker interference detected!
Wikia is a free-to-use site that makes money from advertising. We have a modified experience for viewers using ad blockers

Wikia is not accessible if you've made further modifications. Remove the custom ad blocker rule(s) and the page will load as expected.