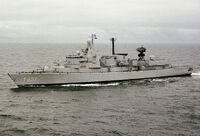 The
Kortenaer-class
was a class of frigates of the
Royal Netherlands Navy
. They were built to be a general purpose frigate; able to combat all surface, submarine and aircraft targets. Like some of the other frigates of the 1970s and 1980s, they featured a COGOG (combined gas or gas) propulsion system. Eleven were built for the
Royal Netherlands Navy
, ten for the
Royal Hellenic Navy
, and eight for the
Republic of Iran Navy
.
Specifications
Edit
Type: General Purpose Frigate
Service Period: 1978-2011 (Netherlands); 1981-Present (Iran)
Characteristics:

Length: 426 feet 6 inches (130 meters)
Beam: 47 feet 3 inches (14.4 meters)
Draft: 14 feet 5 inches (4.4 meters)
Displacement: 3,920 tons (Standard); 4,256 tons (Full Load)

Crew: 186
Cruising Speed: 20 knots (37.04 km/h)
Maximum Speed: 30 knots (55.56 km/h)
Propulsion: COGOG, 2 x Rolls Royce Tyne RM1C gas turbines, 2 x Rolls Royce Olympus TM3B gas turbines, 2 shafts
Range: 4,700 nautical miles (87,04.4 kilometers) at 16 knots (29.63 km/h)
Armament

1 x OTO Melara 76mm/L62 naval gun
2 x 4-cell Broadsword Anti-Ship Missile]] Launchers
1 x 8-cell Thunderbolt AAM Launcher
2 x triple fire torpedo tubes (firing MU90 Impact torpedoes)
1 x 30mm Goalkeeper CIWS

Aircraft Carried: 2 x Westland Sea Lynx helicopters
Netherlands
Edit
HNLMS Kortenaer (F807)
HNLMS Callenburgh (F808)
HNLMS Van Kinsbergen (F809)
HNLMS Banckert (F810)
HNLMS Piet Hein (F811)
HNLMS Abraham Crijnssen (F812)
HNLMS Philips van Almonde (F813)
HNLMS Bloys van Treslong (F814)
HNLMS Pieter Florisz (F815)
HNLMS Willem van der Zaan (F816)
EA Elli (F-450)
EA Limnos (F-451)
EA Adrias (F-452)
EA Aigaion (F-453)
EA Navarinon (F-454)
EA Kountouriotis (F-455)
EA Bouboulina (F-456)
EA Kanaris (F-457)
EA Themistoklis (F-458)
EA Nikiforos Fokas (F-459)
RIS Tehran
RIS Mashhad
RIS Isfahan
RIS Tabriz
RIS Karaj
RIS Shiraz
RIS Ahvaz
RIS Qom
Ad blocker interference detected!
Wikia is a free-to-use site that makes money from advertising. We have a modified experience for viewers using ad blockers

Wikia is not accessible if you've made further modifications. Remove the custom ad blocker rule(s) and the page will load as expected.