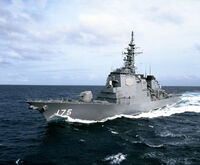 The
Kongo-class guided missile destroyers
a class of warship in service in the
Republic of Japan Navy
. They are complemented by the newer
Atago-class guided missile destroyers
.
Specifications
Edit
Type: Air Defense Destroyer
Service Period: 1993-Present
Characteristics

Length: 528.2 feet (161 meters)
Beam: 68.9 feet (21 meters)
Draft: 20.3 feet (6.19 meters)
Displacement: 7,500 tons (Standard); 9,500 tons (Full Load)

Crew: 300
Propulsion: 4 x Ishikawajima Harima/Rolls Royce WR-21 gas turbines, 4 x Converteam electric motors 2 x shafts, 115,200 shp (75,000 kW)
Range: 6,000 nautical miles (11,112 kilometers) at 20 knots (37.04 km/h)
Speed: 30+ Knots (55.56+ km/hr)
Sensor Suite:

Type 1045 SAMPSON Multifunction AESA RDF
Type 1046 S1850M Long Range Air Search RDF
OPS-28D Surface Search RDF
OPS-20 Navigation RDF
FCS-2-21G Fire Control System
OQS-102 Bow Mounted ASDIC
OQR-2 Towed Array ASDIC

Countermeasures:

NOLQ-2 Intercept / Jammer
Sea Gnat

Armament

1 x QF 4.5"/55-caliber Mk.8B naval gun
2 x Vertical Launching System (1 x 32-cell bow, 1 x 64-cell aft) - fires GWS.31 VL-Sea Dart Mk.II AAMs, GWS.27 Sea Wolf, AAMs Broadsword AShMs, VL-Orca and Storm Wind cruise missiles
2 x 30mm Goalkeeper CIWS
2 x Type 68 triple torpedo tubes (6 x Type 73 torpedoes)
RJS Kongou (DDG-173)
RJS Kirishima (DDG-174)
RJS Myoko (DDG-175)
RJS Choukai (DDG-176)
Ad blocker interference detected!
Wikia is a free-to-use site that makes money from advertising. We have a modified experience for viewers using ad blockers

Wikia is not accessible if you've made further modifications. Remove the custom ad blocker rule(s) and the page will load as expected.