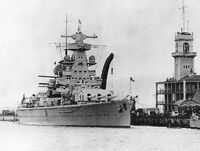 Admiral Scheer
was a
Deutschland-class heavy cruiser
(often termed a pocket battleship) which served with the
Kriegsmarine
of
Nazi Germany
during
World War II
. The vessel was named after Admiral Reinhard Scheer, German commander in the Battle of Jutland. She was laid down at the Reichsmarinewerft shipyard in Wilhelmshaven in June 1931 and completed by November 1934. Originally classified as an armored ship (Panzerschiff) by the Reichsmarine, in February 1940 the Germans reclassified the remaining two ships of this class as heavy cruisers.
The ship was nominally under the 10,000 long tons (10,000 t) limitation on warship size imposed by the Treaty of Versailles, though with a full load displacement of 15,180 long tons (15,420 t), she significantly exceeded it. Armed with six 28 cm (11 in) guns in two triple gun turrets, Admiral Scheer and her sisters were designed to outgun any cruiser fast enough to catch them. Their top speed of 28 kn (52 km/h; 32 mph) left only a handful of ships in the Anglo-French navies able to catch them and powerful enough to sink them.
Admiral Scheer saw heavy service with the German Navy, including a deployment to Spain during the Spanish Civil War, where she bombarded the port of Almería. Her first operations in World War II were commerce raiding missions in the Atlantic Ocean; eventually, the threat of British ships and aircraft caused her to be recalled to Germany. Admiral Scheer was not present at the Battle of Kristiansand, but five days after the battle she was part of an engagement with HMS Rodney in which she was sunk.[1]
References
Edit
Ad blocker interference detected!
Wikia is a free-to-use site that makes money from advertising. We have a modified experience for viewers using ad blockers

Wikia is not accessible if you've made further modifications. Remove the custom ad blocker rule(s) and the page will load as expected.