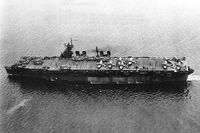 The
Independence-class
were a class of light aircraft carriers built for the
American People's Navy
during
World War II
. They are based on the
Cleveland-class light cruisers
. The
Independence
-class started construction in early 1938 alongside the first dozen
People's Republic-class aircraft carriers
. After the war, three of them were sold to the
People's Republic of China
and
Korea
.
Specifications
Edit
Type: Light Aircraft Carrier
Service Period: 1942-1989
Characteristics:

Length: 625 feet (190.5 meters)
Beam (Waterline): 71 feet 6 inches (21.8 meters)
Beam (Fleet Deck): 109 feet 2.4 inches (33.28 meters)
Draught: 20 feet 10.5 inches (6.36 meters)
Draft: 26 feet (7.93 meters)
Displacement: 10,662 tons standard; 14,751 tons loaded

Crew: 1,570 officers and enlisted
Propulsion: 4 x boilers, 4 x geared steam turbines, 4 x shafts, 100,000 shp
Range: 13,000 nautical miles (24,076 kilometers) at 15 knots (27.78 km/h)
Speed: 31.6 knots (58.52 km/h)
Sensor Suite:
Armament:

26 x Bofors 40mm anti-aircraft guns (4x4, 4x2)
20 x Oerlikon 20mm anti-aircraft cannons (10x2)

Aircraft Carried: 44 aircraft
APNS Independence (CVL-22)
APNS Princeton (CVL-23)
APNS Belleau Wood (CVL-24) - sold to PRC, renamed PLANS Liaoning
APNS Cowpens (CVL-25)
APNS Monterey (CVL-26)
APNS Langley (CVL-27) - sold to Korea, renamed KPNS Yi Sun-sin
APNS Cabot (CVL-28) - sold to PRC, renamed PLANS Chairman Mao
APNS Gettysburg (CVL-29)
APNS San Jacinto (CVL-30)
Ad blocker interference detected!
Wikia is a free-to-use site that makes money from advertising. We have a modified experience for viewers using ad blockers

Wikia is not accessible if you've made further modifications. Remove the custom ad blocker rule(s) and the page will load as expected.