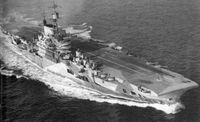 The
Implacable-class aircraft carrier
was a type of fleet carrier in service in the
British
,
Australian
, and
Canadian
navies during
World War II
. The
Implacable
-class is 870 feet (265.18 meters) in length, 91 feet (27.74 meters) wide, can carry ~90 aircraft, and has a top speed of 33.6 knots (62.23 km/hr).
[1]
Specifications
Edit
Type: Aircraft Carrier
Service Period: 1941-1985
Characteristics:

Length: 870 feet (265.18 meters)
Beam: 95 feet 9 inches (29.19 meters)
Draught: 36 feet (10.97 meters)
Displacement: 28,750 tons (Standard); 34,500 tons (Full Load)

Crew: 2,750
Power: 180,000 shp
Propulsion: 8 x 600 psi boilers, 4 x geared steam turbines, 4 x shafts, 150,000 shp
Range: 20,000 nautical miles (37,040 kilometers)
Speed: 33.6 knots (62.23 km/hr)
Sensors:

Type 277 height-finding RDF x 1
Type 279 early-warning RDF x 1
Type 281 early-warning RDF x 1
Type 282 gunnery RDF x 6
Type 285 gunnery RDF x 4
Tachyometric RDF-based Air-Defense and Identification System (TRADIS)

Armament:

16 x QF 4.5"/45-caliber Mk.III/IV/V dual purpose guns (8x2)
36 x Oerlikon 20mm anti-aircraft guns (18x2)
64 x Bofors 40mm anti-aircraft guns (16x4)

Armour:

Belt: 4.5-inches (114.3 mm)
Hangar Deck: 4.5-inches (114.3 mm)
Hangar Sides: 2-inches (50.8 mm)
Bulkheads: 2-inches (50.8 mm)
Magazines: 4.5-inches (114.3 mm)

Aircraft Carried: 95
HMS Implacable (R86)
HMS Indefatigable (R10)
HMS Perseus (R11)
HMS Invincible (R12)
HMS Resistance (R13)
HMS Rodney (R14)
HMS Ethalion (R15)
HMS Brave (R16)
HMS Pioneer (R17)
HMS Triumph (R18)
HMAS Melbourne
HMAS Australia
References
Edit
Ad blocker interference detected!
Wikia is a free-to-use site that makes money from advertising. We have a modified experience for viewers using ad blockers

Wikia is not accessible if you've made further modifications. Remove the custom ad blocker rule(s) and the page will load as expected.