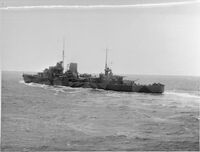 HMS Leander (75)
was a light cruiser which served with the
Royal Navy
during
World War II
. She was the lead ship of a class of fourteen ships, the
Leander-class light cruisers
.
Leander was launched at Devonport on July 13th 1929. She was commissioned into the Royal Navy as HMS Leander on July 23rd 1931. Along with Achilles she served in the New Zealand Division of the Royal Navy.
In 1932, the the New Zealand Division became the Royal New Zealand Navy (RNZN) and she was temporarily commissioned as HMNZS Leander in September 1932. Leander along with Achilles would spend their time in the RNZN training personnel in shipboard operations until the quartet of heavy and light cruisers ordered for the RNZN were completed.
In World War II, Leander would serve primarily with the Far East Fleet. Commander Stephen Roskill was posted as the ship's captain in 1941. On February 27th 1941, she sank the Italian armed merchantman Ramb I near the Maldives, rescuing 113 of her crew. On March 23rd, Leander intercepted and captured the German merchant Charles L.D. in the Indian Ocean between Mauritius and Madagascar.
On April 14th, Leander deployed for support of military operations in Persian Gulf and, on April 18th, joined the aircraft carrier Hermes and the light cruiser Emerald.
On April 22nd, Leander was released from support duties in the Persian Gulf and took part in search for German raider KMS Pinguin south of Maldives.
In June 1941, the Leander was transferred to the Mediterranean Fleet and was active against the Italians and Soviets. After serving in the Mediterranean, the Leander returned to the Pacific Ocean in March 1942.
On June 17th 1943, the Leander was part of an Allied cruiser group that took part in the Battle of North Borneo. As a result of battle damage leaving her in sinking condition, she had to be scuttled by the destroyers Electra and Hotspur.[1]
References
Edit
Ad blocker interference detected!
Wikia is a free-to-use site that makes money from advertising. We have a modified experience for viewers using ad blockers

Wikia is not accessible if you've made further modifications. Remove the custom ad blocker rule(s) and the page will load as expected.