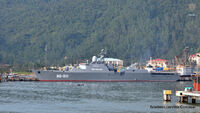 The
Gepard-class frigates (Project 1166.1)
were a class of warships intended to be the successors of the
Koni-class frigates
as well as the
Grisha
and
Parchim-class corvettes
.
These vessels are capable of employing their weapons systems in conditions up to Sea State 5. The hull and superstructure are constructed primarily of steel, with some aluminum-magnesium being used in the upper superstructure. They are equipped with fin stabilizers and twin rudders, and can use either gas turbines or diesel for propulsion in a CODOG configuration
Project 1166.0
Edit
SVK Gepard (693)
SVK Yastreb (694)
Project 1166.1
Edit
SVK Albatros (695)
SVK Burevestnik (696)
Project 1166.1K
Edit
SVK Tartarstan (697)
SVK Dagestan (698)
Dinh Tien Hoang (HQ-011)
Ly Thai To (HQ-012)
Unnamed (HQ-013) - under construction
Unnamed (HQ-014) - under construction
Unnamed (HQ-015) - planned for construction
Unnamed (HQ-016) - planned for construction
Ad blocker interference detected!
Wikia is a free-to-use site that makes money from advertising. We have a modified experience for viewers using ad blockers

Wikia is not accessible if you've made further modifications. Remove the custom ad blocker rule(s) and the page will load as expected.