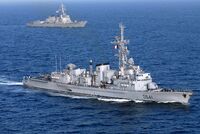 The
Georges Leygues-class
(Type F70) is a class of anti-submarine destroyers of the
French
and
Portuguese
navies. They are multi-role ships due to their Exocet and Crotale missile armament, making them especially suitable for the defence of strategic positions, show of force operations, or as high seas escorts. The F70 is internationally labelled an "anti-submarine destroyer" (hence the "D" in the hull numbers), though the French do not use the term and refer to the ships as "frigates".
The superstructures were built to optimise resistance to the blast from nuclear explosions. The last three ships of the class had their bridges raised one deck to overcome problems experienced by the first four in bad weather, as well as being equipped with DSBV 61 passive linear towed array sonar and several other upgraded systems.
Specifications
Edit
Type: Destroyer
Service Period: 1979-Present
Characteristics:

Length: 456 feet (138.99 meters)
Beam: 46 feet (14.02 meters)
Draft: 18 feet 8 inches (5.69 meters)
Displacement: 3,494 tons (Standard); 4,429 tons (Full Load)

Crew: 235
Propulsion: CODOG,

2 × Rolls-Royce Olympus TM3B gas turbines, 26,000 hp (19,388 kW) each
2 × SEMT Pielstick 16PA6-V280 diesel engines, 5,200 hp (3,878 kW) each

Range: 10,000 nautical miles (18,520 kilometers) at 15 knots (27.78 km/h)
Speed: 30 knots (55.56 km/h)
Sensor Suite:

DRBV51C Air/Surface Sentry RDF x 1
DRBV 26 Air Sentry RDF x 1
DRBC 32E Fire Control RDF x 1
KH 1007 Navigation RDF x 2
DUBV 23 Hull mounted ASDIC x 1
DUBV 43C Towed ASDIC x 1

Countermeasures:

Radar interceptors ARBR 16 RDF Interceptors x 2
Syllex chaff launchers x 2

Armament:

1 x Creusot-Loire Compact 100mm/55-caliber Modele 68 dual purpose naval gun
1 × Crotale EDIR system - 8 missiles on launcher + 18 stored
2 × Simbad systems - 2 × 2 Mistral missiles
4 × MM38/MM40 Exocet anti-ship missiles
10 × L5 Mod4 torpedoes
2 × L5 torpedo launchers
2 × 20 mm guns
4 × 12.7 mm machine guns

Aircraft Carried: 2 × Westland Lynx WG13 Mk.4 helicopters
MN Georges Leygues (D650)
MN Dupleix (D651)
MN Montcalm (D652)
MN Jeanne de Vienne (D653)
MN Primauguet (D654)
MN La Motte Piquet (D655)
MN Latouche-Tréville (D656)
NRP João de Santarém (D338)
NRP Diogo Cão (D339)
Ad blocker interference detected!
Wikia is a free-to-use site that makes money from advertising. We have a modified experience for viewers using ad blockers

Wikia is not accessible if you've made further modifications. Remove the custom ad blocker rule(s) and the page will load as expected.