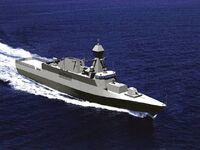 The
Gawron-class corvette
is a class of small warship of the
Polish Navy
, built for the 21
st
century. The
Gawron
-class is replacing the aging
Tarantul
-class corvettes in Polish service.
Specifications
Edit
Type: Corvette
Characteristics

Length: 295.6 feet (90.10 meters)
Beam: 42.0 feet (12.80 meters)
Draft: 11.8 feet (3.60 meters)
Displacement: 1,820 tons (Standard); 2,260 tons (Full Load)

Crew: 90
Propulsion: 1 x WR-21 gas turbine, 2 x MTU diesel engines, 2 x pump jets
Range: 4,000 nautical miles (7,408 kilometers) at 15 knots (27.78 km/h)
Speed: 29.5 Knots (54.64 Kilometers/Hour; 33.95 Miles/Hour)
Sensor Suite:

Thales Smart-S Mk.2 RDF
Thales SeaPAR RDF
Thales Sirius IRST
Saab CEROS 200 Fire Control System
GDC Hull-mounted ASDIC
Hydroscience Technologies towed array ASDIC system
GDC variable depth ASDIC

Armament

1 x OTO Melara 76mm gun
1 x 8-cell VLS (fires 32 Sea Ceptor AAMs)
2 x 4-cannister SSM Launchers (fires RBS-15 Mk.III Anti-Ship Missiles)
1 x 21-round
2 x 12.75" triple fire torpedo tubes (fires Eurotorp MU90 Impact lightweight torpedo)

Aircraft Carried: 1 x Westland Lynx (replaced by Westland Wildcat)
ORP Ślązak
ORP Kujawiak
ORP Krakowiak
ORP Mazur
ORP Kurp
ORP Goral
ORP Gawron
Ad blocker interference detected!
Wikia is a free-to-use site that makes money from advertising. We have a modified experience for viewers using ad blockers

Wikia is not accessible if you've made further modifications. Remove the custom ad blocker rule(s) and the page will load as expected.