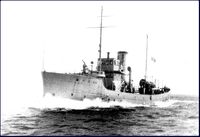 The
Fundy-class minesweepers
were a class of four minesweepers operated by the
Royal Canadian Navy
during the
Second World War
.
The class derives its name from the lead ship HMCS Fundy and are all named after bays in Canada. The Fundy-class minesweepers were modified versions of the British Basset-class trawler minesweepers. The Canadian ships were given extra strengthening for ice conditions. Two were initially assigned to the west coast and two, including Fundy, to the east coast.
HMCS Fundy (J88)
HMCS Gaspe (J94)
HMCS Comox (J64)
HMCS Nanoose (J35)
Ad blocker interference detected!
Wikia is a free-to-use site that makes money from advertising. We have a modified experience for viewers using ad blockers

Wikia is not accessible if you've made further modifications. Remove the custom ad blocker rule(s) and the page will load as expected.