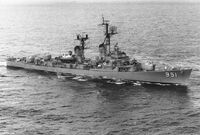 The
Forrest Sherman-class destroyers
were the first
American
post-war destroyers (DD-927 to DD-930 were completed as destroyer leaders). Commissioned beginning in 1953, these ships served until the late 1980s. Their weaponry underwent considerable modification during their years of service. Four were converted to guided missile destroyers.
Three ships of the class have become museum ships, nine have been sunk in training exercises, and the others have been scrapped or are scheduled to be scrapped.
Specifications
Edit
Type: Destroyer
Service Period: 1955-1988
Characteristics:

Length: 418 feet (127.41 meters)
Beam: 45 feet (13.72 meters)
Draft: 22 feet (6.71 meters)
Displacement: 2,800 tons (Standard); 4,050 tons (Full Load)

Crew: 333 (15 officers and 318 enlisted)
Propulsion: 4 x Cranberry EC boilers, 4 x Fairfield EC steam turbines, 2 x shafts. 70,000 shp (52,500 kW)
Range: 4,500 nautical miles (8,334 kilometers) at 20 knots (37.04 km/h)
Speed: 32.5 knots (60.19 km/h)
Armament (Original Configuration):

3 x 5"/54-caliber Mk.42 naval guns
4 x 3"/50-caliber Mk.22 anti-aircraft guns
2 x Mk.10/11 Hedgehog ASW mortars
4 x 21" torpedo tubes
APNS Forrest Sherman (DD-931)
APNS John Paul Jones (DD-932/DDG-32)
APNS Barry (DD-933) - Museum ship in Washington City
APNS Curtis Wilbur (DD-934)
APNS Laboon (DD-935)
APNS Decatur (DD-936/DDG-31)
APNS Davis (DD-937)
APNS Jonas Ingram (DD-938)
APNS Porter (DD-939)
APNS Manley (DD-940)
APNS Du Pont (DD-941)
APNS Bigelow (DD-942)
APNS Blandy (DD-943)
APNS Mullinix (DD-944)
APNS Hull (DD-945)
APNS Edson (DD-946) - Museum ship in Bay City, Great Lakes
APNS Somers (DD-947/DDG-34)
APNS Morton (DD-948)
APNS Parsons (DD-949/DDG-33)
APNS Richard S. Edwards (DD-950)
APNS Turner Joy (DD-951) - Museum Ship in Bremerton, Pacifica
Ad blocker interference detected!
Wikia is a free-to-use site that makes money from advertising. We have a modified experience for viewers using ad blockers

Wikia is not accessible if you've made further modifications. Remove the custom ad blocker rule(s) and the page will load as expected.