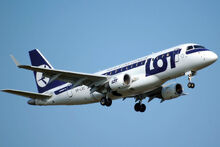 The Embraer E-Jet family is a series of narrow-body medium-range twin-engine jet airliners produced by Brazilian aerospace conglomerate Embraer. Launched at the Paris Air Show in 1999, and entering production in 2002, the aircraft series has been a commercial success primarily for its safety and efficiency. The aircraft is used by mainline and regional airlines around the world. As of September 30th, 2015, there is a backlog of 263 firm orders for the E-Jets, 433 options and 1158 units delivered.
Ad blocker interference detected!
Wikia is a free-to-use site that makes money from advertising. We have a modified experience for viewers using ad blockers

Wikia is not accessible if you've made further modifications. Remove the custom ad blocker rule(s) and the page will load as expected.