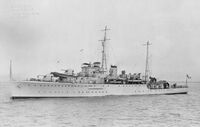 The
Egret-class sloops
were a four ship class of a long-range escort vessels used in the
Second World War
by the
Royal Navy
. They were an enlarged version of the
Bittern-class sloops
with an extra twin 4 inch gun mounting. They were fitted with Denny Brown stabilizers and the Fuze Keeping Clock anti-aircraft fire control system.
Specifications
Edit
Type: Sloop of War
Service Period: 1938-1958
Characteristics:

Length: 276 feet (84.13 meters)
Beam: 37 feet 6 inches (11.43 meters)
Draught: 8 feet 6 inches (2.59 meters)
Displacement: 1,200 tons

Crew: 188
Propulsion: 2 x 3-drum Admiralty boilers, 2 x Parsons geared steam turbines, 2 x shafts, 3,600 hp (2.68 MW)
Range:
Speed: 19.25 knots (35.65 km/h)
Sensor Suite:

Fuze Keeping Clock Anti-aircraft Fire Control System

Armament:

8 x QF 4"/45-caliber Mk.XVI dual purpose naval guns (4x2)
4 x .5-inch Vickers Mk.III machine guns
HMS Heron (L61)
HMS Auckland (L68)
HMS Egret (L75)
HMS Pelican (L86)
Ad blocker interference detected!
Wikia is a free-to-use site that makes money from advertising. We have a modified experience for viewers using ad blockers

Wikia is not accessible if you've made further modifications. Remove the custom ad blocker rule(s) and the page will load as expected.