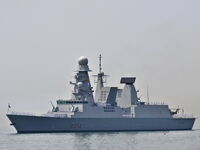 The
Andrea Doria-class guided missile destroyers
are a class of four warships in service in the
Regia Marina
from the late 2000s onwards.
Specifications
Edit
Type: Air Warfare Destroyer
Service Period: 2007-
Characteristics

Length: 501 feet 6.5 inches (152.87 meters)
Beam: 66 feet 8 inches (20.32 meters)
Draft: 17 feet 8.6 inches (5.4 meters)
Displacement: 5,600 tons (Standard); 7,050 tons (Full Load)

Crew: 174 (26 officers, 110 petty officers, 38 sailors)
Propulsion: 2 x 31,280 hp GE/Avio General Electric LM2500 gas turbines, 2 x 5,875 hp SEMT Pielstick 12 PA6 STC diesels, 1 x beam propulsor, 2 x 4-blade propellers
Range: 7,000 nautical miles (13,964 kilometers) at 18 knots (33.34 km/hr), 3,500 nautical miles (6,482 kilometers) at 25 knots (46.3 km/hr)
Speed: 31.5 knots (58.34 km/hr)
Sensor Suite

Surface search RDF in E/F band Selex RAN 30X/I (RASS)
Multi-functional 3D phased array RDF in G band Selex SPY-790 (EMPAR) (Principal sensor of PAAMS)
Long Range 3D RDF in D band Thales/Selex S1850M
Secondary Surveillance RDF Selex SIR R/S
Navigation and Helo decking RDF in I band Selex SPN 753(V)4 (NAVR)
Multi-Sensor target indiction system NA 25X (Radar and electro-optical sensor RTN-30X) x 2
Bispectral IR detection and tracking system Sagem Vampir MB (IRAS)
ESM System SLQ-750 made-up by a WB (Wideband) receiver and 2 HSFA (Superheterodyne) receivers
Medium frequency hull ASDIC Thales UMS 4110CL

Countermeasures

RDF Jammers x 2
Oto Melara SCLAR-H decoys launcher system for chaff and flares x 2
Low Frequency Towed Array ASDIC
Acoustic Decoy Launchers x 2

Armament

2 x Otobreda 76mm Super Rapid naval guns
6 x 8-cell Sylver A50 VLS (fires 48 Aster 15/Aster 30 SAMs)
8 x 8 S/S Teseo Mk2/A missile launchers
2 x MU90 torpedo tubes
2 x SLAT anti torpedo system
2 x 25mm Myriad CIWS

Aircraft Carried: 1 (capacity of 2) NH90 or EH101 helicopter (radar ENR, sonar Flash, LADT 11, Marte missiles or MU90 Impact torpedoes)
ITS Andrea Doria (DM 553)
ITS Caio Duilio (DM 554)
ITS Arturo Riccardi (DM 555)
ITS Angelo Iachino (DM 556)
Ad blocker interference detected!
Wikia is a free-to-use site that makes money from advertising. We have a modified experience for viewers using ad blockers

Wikia is not accessible if you've made further modifications. Remove the custom ad blocker rule(s) and the page will load as expected.