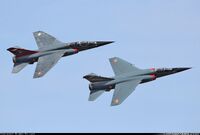 The
Dassault Mirage F1
is a
French
air-superiority fighter and attack aircraft designed and built by
Dassault Aviation
as a successor of the
Mirage III
family. The Mirage F1 entered service in the
French Air Force
(Armée de l'Air) in the early seventies. Powered by a single SNECMA Atar turbojet providing about 15,750 lbf (70 kN) of thrust, the F1 has been used as a light multipurpose fighter and has been exported to about a dozen nations. More than 720 F1s have been produced.
Ad blocker interference detected!
Wikia is a free-to-use site that makes money from advertising. We have a modified experience for viewers using ad blockers

Wikia is not accessible if you've made further modifications. Remove the custom ad blocker rule(s) and the page will load as expected.