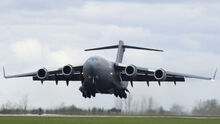 The Canadair CC-177 Stingray is a large wide body strategic airlifter in the Royal Canadian Air Force from the late 1990s onwards. It can carry up to 244,000 lbs of cargo. The Stingray has also seen some success in being exported to other nations such as Australia, Brazil, the British Empire, Germany, Iran, the Republic of China, and the Republic of Japan.
Ad blocker interference detected!
Wikia is a free-to-use site that makes money from advertising. We have a modified experience for viewers using ad blockers

Wikia is not accessible if you've made further modifications. Remove the custom ad blocker rule(s) and the page will load as expected.