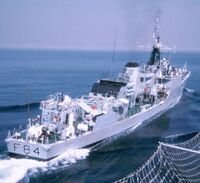 The
Type 14 Blackwood-class
were a twelve ship class of "second-rate" anti-submarine warfare frigates of the
Royal Navy
, designed and built during the increasing threat from the
UAPR's
large fleet of submarines that roamed the Atlantic Ocean.
HMS Dundas (F48)
HMS Grafton (F51)
HMS Hardy (F54)
HMS Pellew (F62)
HMS Blackwood (F78)
HMS Duncan (F80)
HMS Exmouth (F84)
HMS Keppel (F85)
HMS Malcom (F88)
HMS Murray (F91)
HMS Palliser (F94)
HMS Russell (F97)
HMS Kirpan (F144)
HMS Kuthar (F146)
HMS Khukri (F149)
Ad blocker interference detected!
Wikia is a free-to-use site that makes money from advertising. We have a modified experience for viewers using ad blockers

Wikia is not accessible if you've made further modifications. Remove the custom ad blocker rule(s) and the page will load as expected.