Air America is the flag-carrying airline and only civilian airline of America, servicing both domestic and international routes with a fleet of 157 aircraft.
It has one principal domestic hub in each of the country's subordinate republics, with Washington International Airport also serving as the destination for almost all international flights.
Founded in 1950, Air America first began servicing domestic trans-America routes with war-surplus cargo aircraft and repurposed bombers, with the first purpose-built aircraft, Northern Aircraft Factory CPT-307s, being introduced in 1952.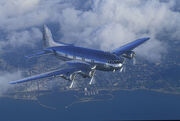 The first international routes, to
London
and
Toronto
, were introduced in 1956.
Ad blocker interference detected!
Wikia is a free-to-use site that makes money from advertising. We have a modified experience for viewers using ad blockers

Wikia is not accessible if you've made further modifications. Remove the custom ad blocker rule(s) and the page will load as expected.